PROBLEM
Environmentally protecting switches in ULS08A approved panels for water & wastewater treatment plants
SITUATION
COX RESEARCH AND TECHNOLOGY, INC. of Baton Rouge, Louisiana is a diversified designer and manufacturer of control panels, 10,000 per year, for oil field, industrial applications, and municipal water and waste treatment plants that require UL-approved panels. These panels incorporate a number of toggle switches, that like the rest of the system require hazardous environmental protection. And, to be in full compliance with UL standards, these switches need sealing boots that were also UL-recognized.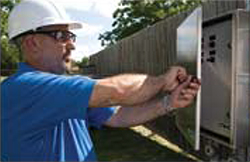 SOLUTION
COX RESEARCH AND TECHNOLOGY, INC. chose APM's UL-Recognized C1131/27 all-weather silicone rubber boots to seal the switch mechanism and its mounting hole – to prevent leakage and protect behind-panel components. Tolerant to ambient temperatures of – 90°F to +400°F.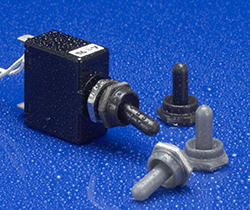 About APM's Sealing Boots Division
The Electronics Division of APM HEXSEAL develops and manufactures environmental protection sealing components for controls that are mounted on switches, potentiometers, encoders, and circuit breakers. Using advanced elastomer molding technology, a broad range of sealing boots are produced to match most controls manufactures' standard part numbers. Most are IP66/68 ingress protection rated and UL Recognized as meeting applicable Canadian and USA enclosure protection standards.
To obtain further information on this subject, call 800-498-9034 and ask for Hexseal and E-Seel Catalogs HEX400 and CB-300 and Self-Sealing Fasteners, Nuts & Washers catalog SF500A.
Free samples available on request.